Mr. Mark Kobelsky
Mr. Mark Kobelsky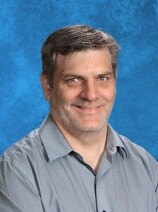 I am truly blessed and thankful to say that this is my 20th year of Catholic education, all of which have been at St. Mary's.  Catholic education is a tremendous gift which we must not take for granted.  It is an extension of the Church and as Pope Benedict XVI has said," A good school provides a well rounded education for the whole person. And a good Catholic school, over and above this, should help all its students to become saints."
My course load this year consists of Math 10C and Math 9, Rel 35, Science 14/24, and co-ordinating the success centre.  I am also the school's chaplain.  The role of the chaplain is to help minister to the spiritual needs or questions of both staff and students.  My extra-curricular duties are the head coach for the junior and senior ladies basketball teams.  I am also the statistician and teacher supervisor for the Vortex.
In my spare time I enjoy exercising accompanied by CHH (Christian Hip Hop) played nice and loud. Yup, bass and faith my bro. lol.  I also enjoy coaching my 3 kids in their athletic activities - basketball and soccer - and reading.
I coach and teach
I lead and preach
more than x's and o's the lessons
my role's a challenge n a blessin'
Represent G-O-D til I d-i-e
I hope y'all see more of Him and less of me.
I close with peace and love
for thats our calling from above.
"May God keep us in His grace, and help us to become saints."  St. Dominic Savio
email: markk@eics.ab.ca